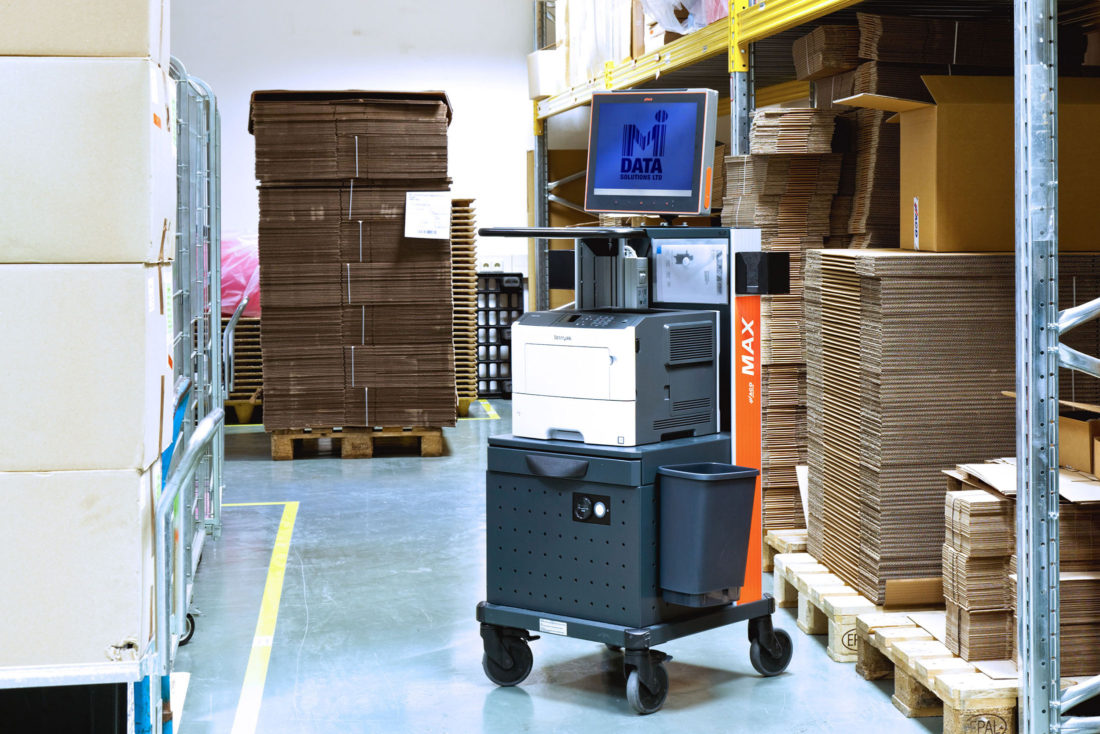 Portable Computing Systems Reseller of the Month
Warehouse data collection made easy
Business and Industry Today is extremely proud to present M.I.Data Solutions Ltd (MIDSL) as its selected Portable Computing Systems Reseller of the Month.
Fixed position workstations can now be a thing of the past with M.I.Data's portable data collection systems, designed to make tasks faster and more efficient for warehouses. Named the MAX Mobile Workstation, this ground-breaking system provides a mobile IT working platform for registering incoming goods, stock control, quality assurance, order picking and shipping.
Manufactured by ACD Gruppe in southern Germany, the MAX Mobile Workstation is a practical benefit to any warehouse operation, including cold stores. MAX carries the IT resources to the job which reduces the working pathway, improves work rate and efficiency resulting in increased employee productivity and reduced operating overheads.
The MAX Mobile Workstation is well designed with a solid and stable chassis on four large castors making it very manoeuvrable. The standard MAX carries two high capacity lead-acid gel batteries to supply 24Vdc and an inverter (inverter specification is selected by option) to provide mobile AC power. The battery autonomy depends upon the load but in a typical configuration, i.e. laptop PC, barcode scanner, barcode label printer a fully charged MAX should work for a normal shift and can be recharged charged overnight. MAX incorporates a visual battery capacity indicator and an acoustic low battery warning if the battery level is getting critical. For high load operations the MAXBWS R incorporates a roll-cage battery change system which, together with the MAX Power Station, allows the discharged batteries to be readily exchanged for fully charged batteries. The exchange process takes but moments and work can continue with minimal interruption. There is also a version of MAX which uses a Li-ion battery and the use of this innovative technology results in a reduction in the weight of the MAX Mobile Workstation. Check out the MAX Configurator where the customer can customise MAX by adding extra features from a comprehensive range of optional extras.
"Do your employees walk too much? is the question we ask our customers," commented Founder and CEO Marcus Dawson. "With the MAX Mobile Workstation employees can complete tasks in a more efficient way with the tools they need at hand which reduces the working pathway, increases work volumes and operational accuracy – this in turn reduces man-hours and the need for overtime. MAX was designed to mobilise IT resources, especially to provide for on-demand fast label printing from a high capacity printer but MAX can be utilised for so much more. MIDSL would like to gain clients in the engineering sector where MAX can be used to carry and power diagnostics equipment to locations where mains power is not readily available.
"This practical solution has been a major hit in Germany for over a decade and several blue chip companies are already using MAX in the UK and MIDSL want to spread the message to the wider UK market about this remarkable and, yet, fundamentally simple product."
Looking to the future, the team are planning to offer more products from ACD Gruppe (Portable Systems Division) starting with the MFT ruggedised industrial tablet terminal which is available in three versions with either a 10″, 12″ or 15″ display. Like all ACD products the MFT is designed and manufactured to the highest quality standards and offers exemplary computing performance in the most demanding of work environments ranging from +450C to -300C.
"We are very proud of our products and believe they can be an asset to any industry," Marcus continued. "We want to spread the message to the UK market how the MAX Mobile Workstation can benefit warehouse and stock room operations.
"We believe that when clients can see, feel and experience the systems in person they can really get a feel for how they work. We are exhibiting at a number of trade shows over the next year, starting with IntraLogisteX, which takes place 27th/28th February 2018 at the Ricoh Arena, Coventry. We hope to see many of you there!" Meanwhile if you would like to find out more how the MAX Mobile Workstation can benefit your operation please contact us.
With over 22 years in the industry, M.I.Data Solutions offers customers world-class, robust data capture, handheld technology and communications solutions. They can supply hardware, support and a repair service for new and legacy systems, so that you can ensure your data capture system continues to meet your needs and protect your investment. "We are proud of our partnership with ACD Gruppe and together we are in an enviable position in the industry with a mission to solve customer problems and provide the solutions they need".